Lily-flowered, Fringed & Parrot
The Dutch Tulip is available in many forms including; Single Early tulip, Triumph Tulip, Lily-flowered Tulip, Fringed Tulip, Double Tulip, Parrot Tulip.
After the excesses of Tulipomania, tulip growing in the Low Countries settled down, following a very different path from the pursuit of perfect individual blooms by the English florists. The tulip now vies with the Hyacinth as the national flower of Holland. Virus-infected bulbs are now grown only in historic collections, but the tulip is big business as a bulb and as a cut flower for export.
---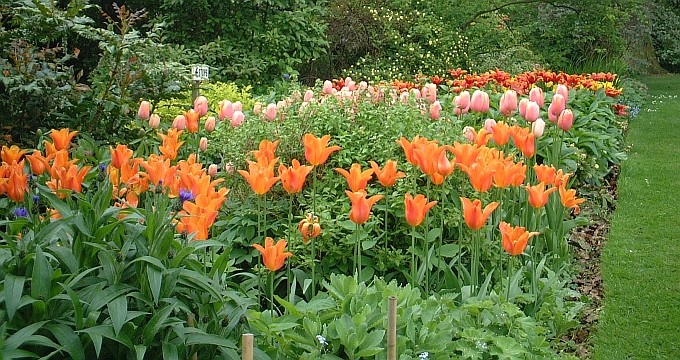 above: Tulip planting display at Constable Burton gardens, North Yorkshire.
The Dutch Tulip is grown for its effect en masse, and many new varieties and sports have been cultivated. There are many different classes of tulip, extending the season from early March to late May with doubles, parrots and lily flowers. Breeding this century has created new varieties based on certain species, like the kaufmanniana ("Waterlily") tulips with their short growth and variegated foliage.
Tulip vase classes
Unlike English Florist Tulips, which are shown in sets designed to show off the range of the grower's collection, Dutch Tulips are shown in groups, usually with each vase of a single variety. The best exhibits will be true to their type, healthy and well grown, at their peak of blooming and well matched as a set. Most of the varieties you see today will be available for purchase by mail order this Autumn from bulbgrowers. Society members may be able to give addresses of suppliers.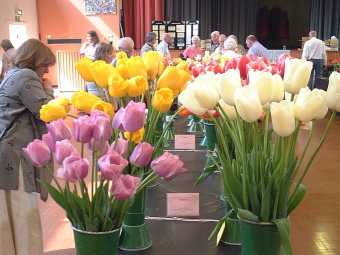 Dutch tulips vase classes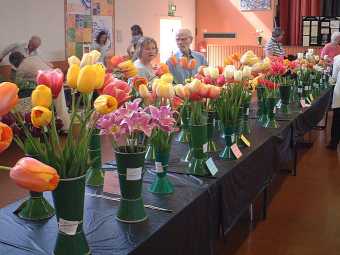 Dutch tulips Society's Main Annual Show
N.B. The term 'Dutch Tulip' is used by us to distinguish it from the English Florists' Tulip, and generally refers to the 14 cultivar groups set out in the Classified List and International Register of Tulip Names.